In 1925, 28 girls, under the direction of Mrs. Nellie Klusmeyer, joined the Center 4-H sew-a-lot club and put on sewing demonstrations. Mrs. Klusmeyer reported as follows:
"In 1925 a number of women in Rock County staged a chicken drive. For some time our boys had been advancing in 4-H work, but the girls needed assistance. Being a teacher, I was asked to take charge of the chicken drive, and each school district brought hens to the school house. I collected them and sold them. The drive was a great success and Miss Helen French was hired to help the girls.
I found 28 girls to join the sewing club. We met in the Center Town Hall and all the girls made a nightgown and we lunched and picnicked at the sewing classes. We prepared a senior demonstration team consisting of Mabel Sarow and Neva Miller. They took first at the Janesville Fair. Nearly every one of the 28 girls completed the required work. Outstanding members were: Mabel Sarow, Neva Miller, Laura Koepnick, Verna Korban, Edna Korban, Mary Balis, Genevieve Collins, Amanda Riese, Sophia Prebe, Helen Fenrick, Mildred Fenrick, Mabel and Alice Fenrick.
(This information was taken from a 1965 article on the Center 4-H club).
Other original members include:Elsie Wienke, Edna Wienke, Hilda Wienke, Margaret Mohns, Helen Wienke, Mildred Berger Florence Harrison, Mabel Mohns. (These names came from a 1954 article on the Center 4-H)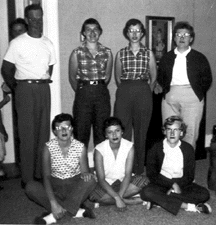 Center 4-H officers and co
-chairman from mid 1950's.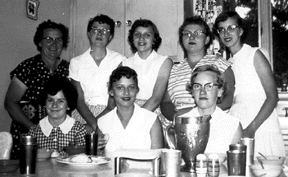 Food project meeting - 1950's